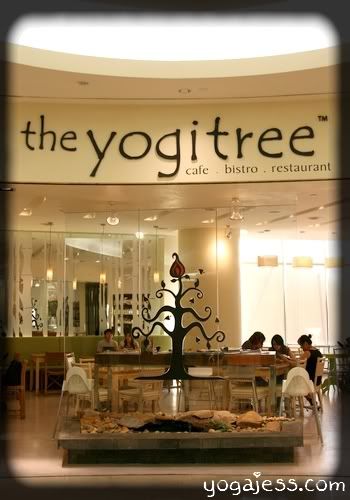 The Yogitree claimed to be a cafe cum bistro CUM boutique was located at The Garden Mid Valley.  Take the escalator up to the first floor and you won't miss them cos they are right in front of you when you embark from the  escalator. For health freak people, this is the place you must visit.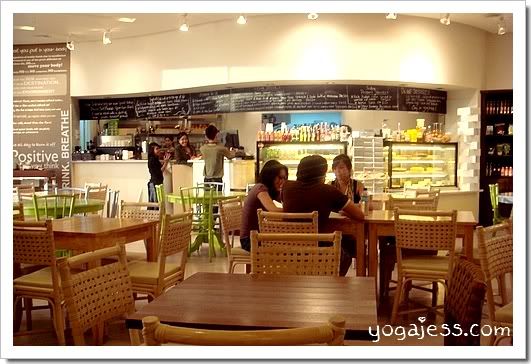 The furniture does not blend out nicely as there are some rattan chairs, green pastel furnishing, padded chairs, etc. But I must say, I really like the blackboard on top of the counter even though the writing is a bit 'unfriendly' for me.   But one thing that make the patronage came back for more.  The FOOD!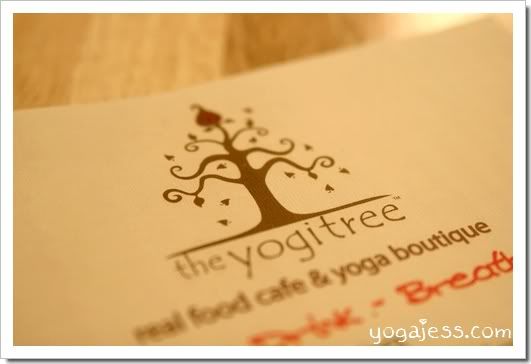 The shop concept is to serve everything that is organic and pure.  The following food review is solely based on my personal taste bud and may varied for others.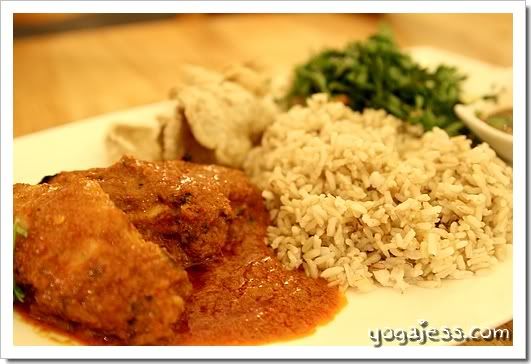 The Husband is not the type who had the patience to go thru the whole list of menu.  He just picked out something that is most familiar with, the Ayam Percik.  I was so wrong to think that this is one ordinary malay food.  The sambal chicken taste so good!  Just go thru the ingredients in the menu and you know for sure what you ate are healthy food.  No kidding!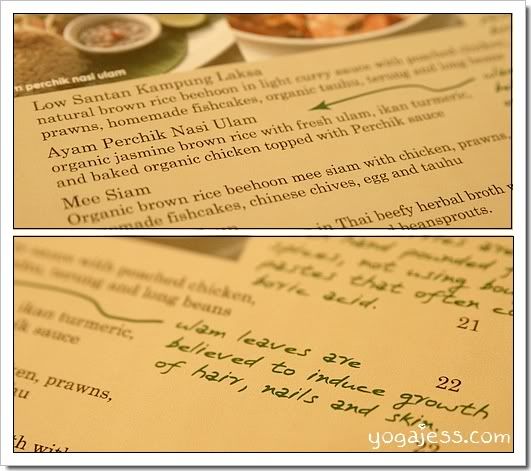 Since Hubby did not favour raw vegetables, I was more than happy to polish off the plate.  The ulam goes so well with the sambal.  Or rather, the sambal goes so well with the ulam.   Ok, whatever it is, this is a thumbs up from me.  Highly recommended.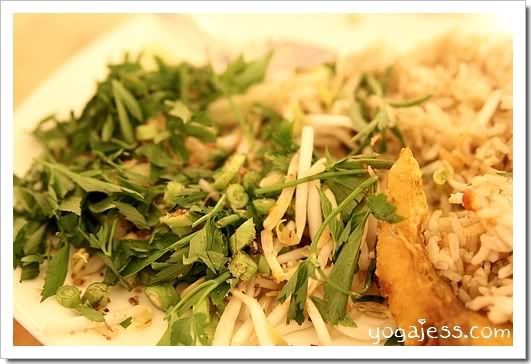 Oh, and not forgetting, this dish came with a piece of turmeric fish.  By just writing down all this, I am starting to drool again. *wipe salivar from keyboard*
They have Yogikids menu to choose between a fish or chicken nuggets.  None of the kiddos like them.  So I ordered chicken sausage.  Was told that the portion is quite large.  But I didn't know it was SO LARGE!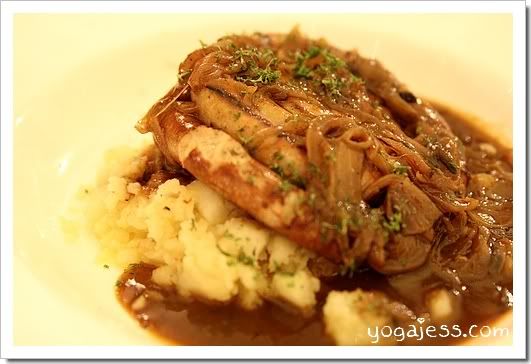 I mean… look at that sausage.  I bet they are a meter long if you unswirl it.  Not to my liking as they are too salty for my tastebud but the gravy goes well with the mashed potatoes.  You can tell they are from real potatoes cos the texture is not smooth like the one in KFC (fyi, KFC used powder potatoe + mixed with water into paste).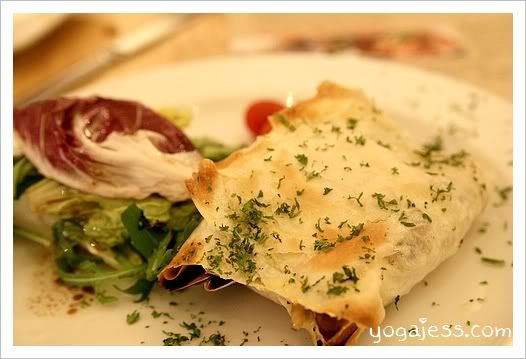 For myself, I didn't want to stuff myself silly with food so that I still have some room for dessert.  This is what I've ordered – Seafood Fillo Parcel consist of mushroom, fish, cheese baked till crispy in fillo sheet.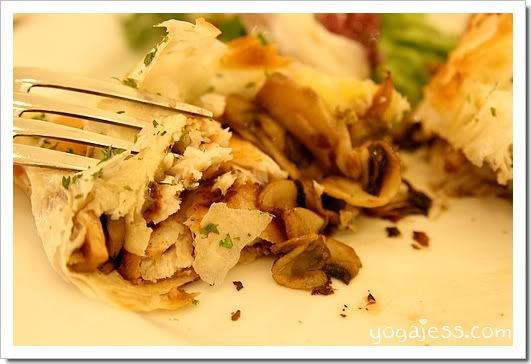 This is not bad actually but once you have tried the earlier Ayam Percik, nothing could beat it.
The kiddos had smoothie mango.  Initially we thought they have mixed up our order for a banana smoothie but only to be told that all smoothies came with a base of banana, yoghurt and honey added into it for.  Too bad the banana overpowered the taste of the mango and none of the kids like them.  Sorry, no picture for that.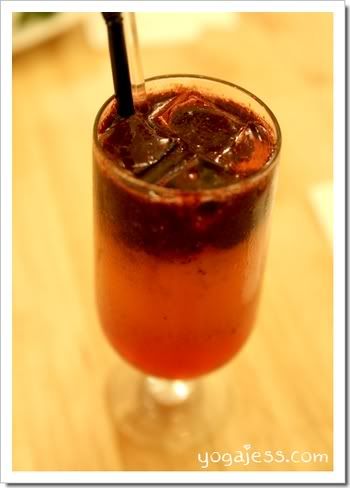 We ordered another round of  Very Berry cos they are vely belly good!  Consist of "strawberry, raspberry, blueberry, cranberry and carrot, they contained huge amount of Vitamin C, carotenoids – a powerful antioxidant which protect against heart disease". I just copied this whole sentence from their menu *sweat*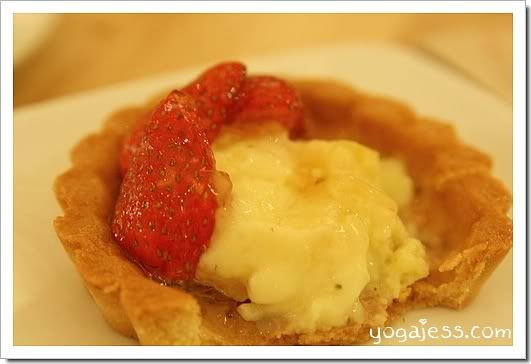 For dessert, this strawberry tart was supposed to be mine and I have yet to take a picture of it!  The kiddos can't wait to digged into it, I bet.  And you should read this!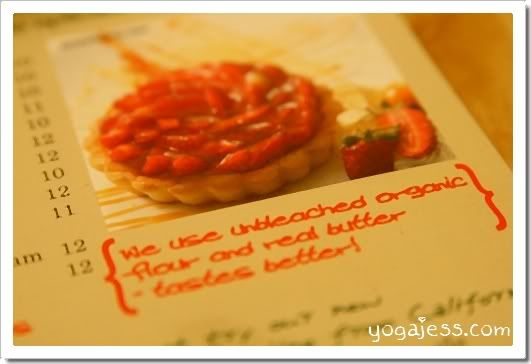 aitelyu, the pastry crust is so crunchy!  They doesn't falls into crumbs when you bite on it.  Now I wonder if unbleached organic flour really works wonder!
While waiting for the food to arrive, I managed to check out some wholesale handbags sold next door and thereafter, we had so much fun doing lots of silly yoga tree poses.  Hey, it's a Labour's Day anyway and we are dining out at Yogitree.  It's an 'offence' to be serious, you know 😉 .
Stay tune for all the silly me pictures.  Till then, namaste!