Want to know what is the secret of loosing weight without popping all those expensive yet not-so-safe diet pills? This is what I've been consuming since 2 years ago – Kenko Diet Plum.
Originated from Japan, Kenko Diet Plum helps in detoxification, loosing weight and treating constipation problems. Kenko Diet Plums are natural organic plums without any chemicals. The looks might not be very appealing but they taste exactly like normal dried plums. This is how it works, for first timer, consumed 2 plums after dinner even though the instruction says here 4 plums.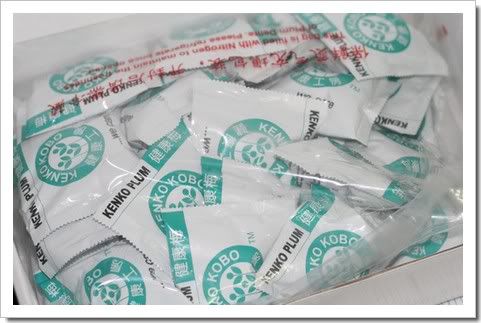 The plum which contained mostly herbs from Golden Plum, Lactic Bacteria, Garcinia Cambotia, Alexandrian Senna, Angelica keiskei(Ashitaba), Essence of Pu-er Tea help create bowel movement and perform internal cleansing by excreting toxins and faeces. Therefore, you might find yourself visiting the toilet more often after consuming the plums. What you eat will flush out the next day. It also claims to gave you a slimmer waist line. What I totally love about the plum is the way they create bowel movement especially for someone like me with irregular toilet trip. Sometimes when I over indulged (especially during CNY) or ate too much unhealthy food like char kwey tiao or red meat, I will pop one plum after dinner and the next day, you will expect some very soft almost runny stool. That way, I can eat all the sinful food as much as I like and yet I don't put on any weight at all.
After a week, consume only one plum a day or you can alternate the intake. At this period, exercising regularly to maintained the body weight and don't forget to drink lots of water. You should try them if you envy the slim waist line like most of the yoga instructor.
Comments
christine on 8 November, 2009 at 8:00 pm #
hi..can let me knw whr i can get it?thanks
Mei
on 16 March, 2010 at 2:28 pm #
hi Jess
may i know where can i get these plum as i've got constipation problem for the last 25 years @.@ thanks yah
Devi on 3 June, 2010 at 5:23 am #
Can I get these in Canada? Thanks
joey on 21 August, 2010 at 6:13 pm #
hi,may i know how much?where i can buy this?postage to kuching how much?1 box how many pc?thanks~
serene tan on 11 September, 2010 at 11:24 am #
tks 4 sharing,where can i get in singapore.urgently need due to constipation haha
Wei Fong on 20 September, 2010 at 11:00 am #
Hi, would like to know where I can get this kenko diet plum..I'm so bloated due to constipation most of the time..huhu..help!!!
Cecilia on 25 September, 2010 at 5:51 pm #
pls help me to purchase, i m staying in
Singapore.
Thank you
Cecilia
[email protected]
Jane Hwang on 24 June, 2011 at 7:49 pm #
I want to know how and where can I buy the kenko diet plum.