This thing about Lady Gaga.  My kids and me love her song.  I have not seen her MTV before and one day, someone posted one of her MTV on Facebook  condemning her clothing.  Holy crow, for an adult viewing I would say that she is HOT!  but her scantily cloth is so inappropriate for kids!  My 5 years old ask me, "Why is Lady Gaga dancing in her pantie?" And it is not a granny pantie.  It is a G-string for goodness sakes!
Now the most shocking news about her is the recent 2010 MTV Video Music Awards in Los Angeles.   Our dear Miss Lady Gaga arrived at the Nokia Theater wearing the most outrageous DESIGNER dress that was made from raw meat.
Photo time!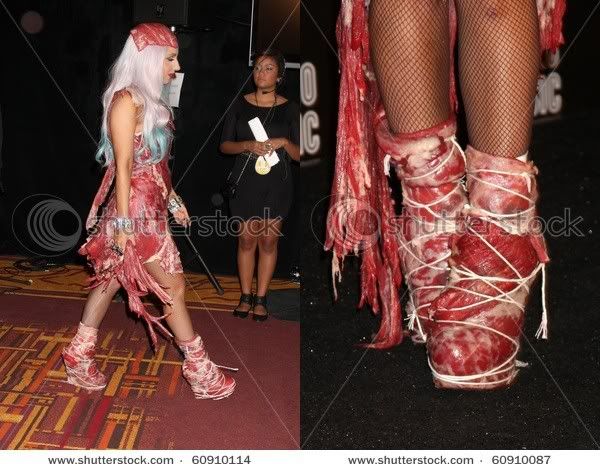 From top to toe is covered with raw fatty meat. I think the Designer should infuse it with powerful fat burner before sewing the cloth. Her hat is raw meat, her dress is raw meat, her clutch bag is a piece of ragged raw meat.  Look, it even sway with her while walking (Yucks!) And her boots… was very neatly wrapped up in bacon.  She is really a piece of meat!  Hmm… I wonder if her cloth is fire resistance cos it would be delicious to put her on the barbecue.