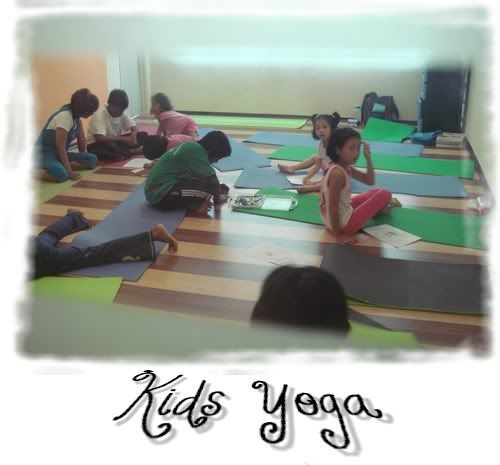 Everyone knows that children have tons of energy. This is the best time to groom them to be what you want. Yea, we had them wrapped around our finger 😉 . Children is always ever ready to learn new things and surprisingly they adapt even faster than adult. If you're looking for a good way to engage the minds and bodies of your kids, yoga is a perfect solution. The physical challenges are stimulating for children. Getting them to focus on holding their bodies in the asanas is a wonderful way to teach them self-discipline as well as create flexibility in their growing bodies.
It is not advisable to drag them along to the adult class where they may not be stimulated enough to continue the practice. After all, adult class is catered for adults and not kids. I have not sit through the whole session in the kiddos class but for sure I know one thing, their classes is always geared with lots of energetic music and playful times thus creating lots of noises = laughter during classes. I can even hear their "AAAAA UM!" from the next room! It makes me happy to see them happy.
p/s: Before I end, let me explain on this picture. It was taken after Kids Yoga class while the children did something fun like reading a book, colouring or just plainly chatting with friends while waiting for their parents to finish classes. Hence you see why they are not in downward dog!
Comments
molly on 5 September, 2008 at 2:00 pm #
Hi Jess, can u pls let me know where can i find yoga classes for kids ? My girls are quite interested to learn after seeing me attending and practise yoga at home ! 🙂
I am staying near to Centro Mall, Klang so I wud prefer the yoga studios near by if available.
Thanks.
YogaJess
on 5 September, 2008 at 2:06 pm #
Hi Molly, I am not sure about Centro side. I send my kids to Yoga Franchise in BKT.
pt on 5 September, 2008 at 3:53 pm #
Hi Jess, could u let me hv Yoga Franchise – Bkt – tel no. like to contact too – tks
molly on 5 September, 2008 at 4:52 pm #
Hi Jess, Bukit Tinggi is not convenient for me coz too far and so many traffic lights along the Banting road. Anyway, thanks for your reply.
If you happened to know any yoga studio that providing yoga kids classes over the other side of Klang, please do let me know. Thanks again. 🙂
catepillar on 8 September, 2008 at 7:57 am #
I am looking for kids yoga classes in Cheras near YC Cheras Plaza to continue my 2 daughters kids yoga. If any one has information pls share with me.They di not attend any kids yoga classes since YZ taking over by the receivers.
Karin
on 8 January, 2010 at 11:25 am #
Beyoga is having a free Kids Yoga class at Level 2 Ikano Power Centre (infront of Barang Barang) this Sunday,10/1/10 from 3.00 pm – 4.00 pm.
A free Karma Yoga class will also be on at 11.00 am – 12.00 noon at the same venue.