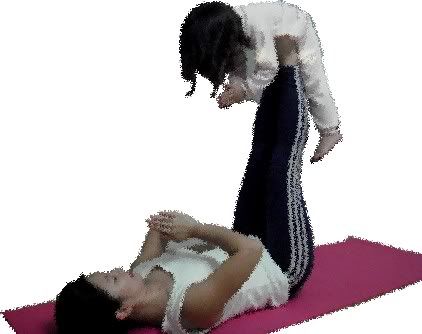 *This act is not part of Yoga posture but very effective to strengthen your core muscle and some priceless family bonding.*
Your core make up of three muscle regions on your body. That is abdominal, pelvic, and lower back. Basically, your core muscle located between your pelvis and the base of your ribcage. These muscles work together to support your spine. When you strengthen your core, you gain greater balance, stability and better posture.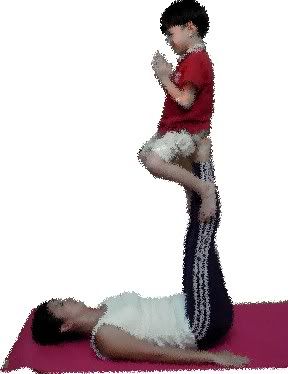 Core muscles are the the vital foundation for all movement of your body. The muscles of your torso stabilize your spine and provide a solid foundation for developing strong shoulders, arms and legs. If the core muscles are weak, your body won't work effectively, and other muscles have to pick up the slack. Weak core is why we 'hunch' our shoulders or get an aching back.
In Yoga, if you don't build up your core muscles, you won't be able to hold on some poses for a long period and hence, the reason why we are slipping away on the mat. Beginners usually blame it on the mat, but the fact is, they don't have a strong core and not using the strength from their core muscle.
*Note: Refering to 2nd pic. Make sure you tuck in your tummy and tighten your inner tight. That is part of the secret to get rid of your love handle.
Namaste, everyone!
Comments
nxt time hor, u can juggle ur kids like those chinese acrobatic ppl liao!
When I come to Malaysia you can support me like that. You will become very powderful.
Adino
on 26 July, 2007 at 12:34 pm #
I learned a lot from this post 🙂 I guess it does make sense that strengthening the core muscles first will help a lot. Btw thanks for leaving a comment at my blog! 🙂
ParisB
on 26 July, 2007 at 12:41 pm #
I do yoga too but still a novice 🙂 I'll be back for more – thanks for coming by my site
Aren't you worried that your son will fall backward? If you do, please substitute him with your nephew 🙂
leslie
on 26 July, 2007 at 3:04 pm #
Wow….. this is really hi-risk bonding activity la !!!
isha
on 27 July, 2007 at 8:11 am #
students will always moan and groan when i tell them to perform leg raises, but after a few months, when they find themselves being able to perform a boat pose or headstand with ease, they tend to appreciate these basic workouts 🙂
great site with wonderful pictures!
Danura
on 27 July, 2007 at 11:23 am #
Hi yoga jess!
Thank you for visiting my site..
I tried doing that with my kids but they are oh so heavy… so i propped them up on their bellies instead..
will link u in too! 🙂
Bernard
on 31 July, 2007 at 1:59 pm #
He's got balance la. Big enuff to correct himself if there's any imbalance already.
[…] Fun, but not so fun especially when I seriously needed some practise at home. Another priceless family bonding here. Read More Post a […]