I am trying my best to blog as often as I can about my life and experiences here in yogajess not in the pre-text to teach or showing off (a bit got la) but as a reminder to myself.  I am not pro and not a qualified Teacher either.  After practicing Yoga for a year now, I am happy to see the progress I've achieved so far.
Sometimes, seeing myself in photographs really amazed me.  Not that we have a chance to catch a glimpse of ourself in the studio mirror.  You know what I mean?  The head is either looking upward or downward.  For example this picture which I took over the weekend in Pangkor Island Beach Resort (formerly known as Pan Pacific Pangkor).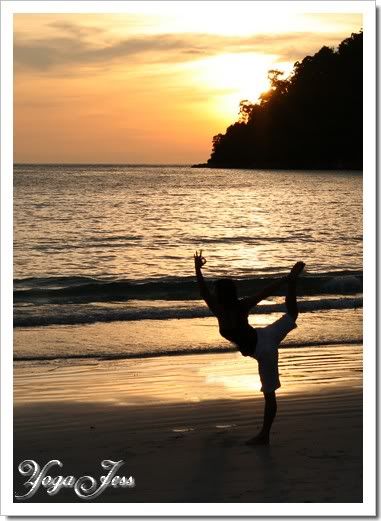 The first word that came out from my mouth, "WOW!  I look beautiful!" *cough* I mean the sunset is beautiful.  I wanted to snap more poses but suddenly I just can't think of anything that is outstanding in a silhouette. Other time then.  At the mean time, I really love this shot ;).
Namaste, everyone!