Downward Facing Dog with Hip opening and Leg bend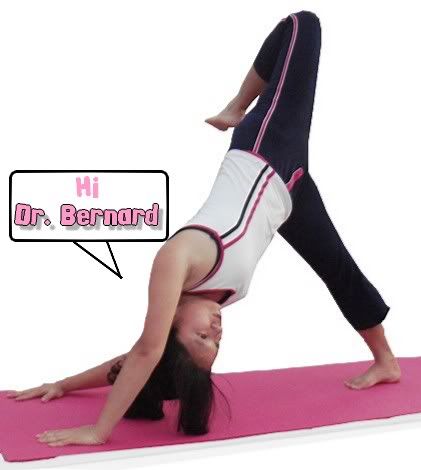 This is my (YogaJess) first time getting tagged and the tagged came from a very very famous surgeon somewhere up North. Everybody, say hi to DrBernard. Dr. Bernard, say hi to all yogis and yoginis.
-Start Copy-
It's very simple. When this is passed on to you, copy the whole thing, skim the list and put a * star beside those that you like. (Check out especially the * starred ones.)
Write your own blogging tip for other bloggers.Try to make your tip general.
1. Look, read, and learn. http://www.neonscent.com/***
2. Be, EXCELLENT to each other. http://www.bushmackel.com/****
3. Don't let money change ya! http://www.therandomforest.info/******
4. Always reply to your comments. http://chattiekat.com/***
5. Blog about what you know & love. http://sugar-queens-dream.blogspot.com/***
6. Don't use filthy language-buy a dictionary. http://shinade.blogspot.com/***
7. Blog about something educational http://climateofourfuture.org/**
8. Be yourself; others will follow http://sfgirl-thealiennextdoor.blogspot.com/< **
9. Don't have too many blogs that will become a chore to maintain http://cubicledenizen.blogspot.com/*
10. Keep it simple, user-friendly, interesting and organised! http://erishaling.blogspot.com/ **
11. Keep the blog simple and sweet!! http://www.leslieho.com/ **
12. Share with others your thoughts and don't be shy! http://groovy-olives.com/blog
13. Never ask for link exchange. Blog hop to increase traffic. http://www.jessieling.com/*
14. Blog about something uniquely you. Or post some unique pictures http://bernardchan.net
15. Beautify your post with a good pic. http://yogajess.com
–End Copy-
5 Yogis I tag: