A notice was paste on the center yesterday.  My vision only focus on the center part of the notice that read… "Pranayama & Yoga Dance".  Nothing excite me.  I checked the calender on my iPhone, 28th June is a Sunday.  And I goes, "Waitaminute, who is teaching Yoga Dance?!?!" I quick dash to the door again and was scanning the notice from beginning to the end making sure I did not miss out any words this time.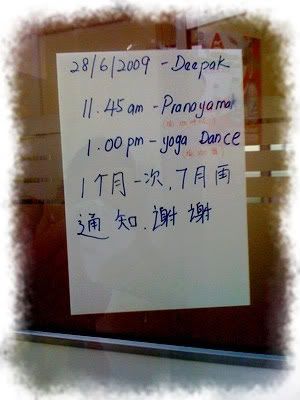 Holy moly!  Deepak is conducting a lesson on Sunday!
I have never like dancing (even thought they are fun) but I will attend the  Pranayama class.  A quick recap on an e-mail which he sent to me few days ago on Pranayama.  I reread the e-mail (on my iPhone) and already knew what he is going to teach this coming Sunday. LOL.  If you are interested, read on.
Subject: pranayama therapy for n1 h1 (halo?  Was it H1 N1?)

"De Ep hi to all my friends ,,these days n1 h1 (halo!  H1 N1 la!) ,, virus is every where,, i will suggest you guys to do pranayama daily for at least half an hour,, specially those pranayama who are giving effect on your manipur chakra,, on the navel and below the navel,, because,, manipur chakra or navel chakra is related to your immune system it is boosting your immune system and specially to agnisara, kapalabhati, and thyroid ,,thymus,,spleen ,, and your bone marrow is also the part of your immune system ,, so ujjayi,,and lion pose,,and uddiyana bandha ,,stomach lock,, are able to give you strong immune system and you will be able to fight with this virus,,plz do this,,thanx and namaste,, god bless you DEEP YOGA"
There ya go.  I don't know how good a teacher he is but I know he is HOT!  Do come and join the class this Sunday if you are around Klang area.  Drop me a note if only you are really keen of coming so that I can forward to you the center telephone number.  It's free of course. Not!